Similar in many ways to Victorian tiles, these are Moroccan Encaustic Cement tiles which come in a huge range of patterns and are ideal for indoor and external use although they should be sealed to protect against water penetration and dirt as well as making cleaning easier. Very popular in hot countries, they certainly add a nice flair which they have done to this ground floor WC at residence in Barrhead which is a town south west of Glasgow in East Renfrewshire.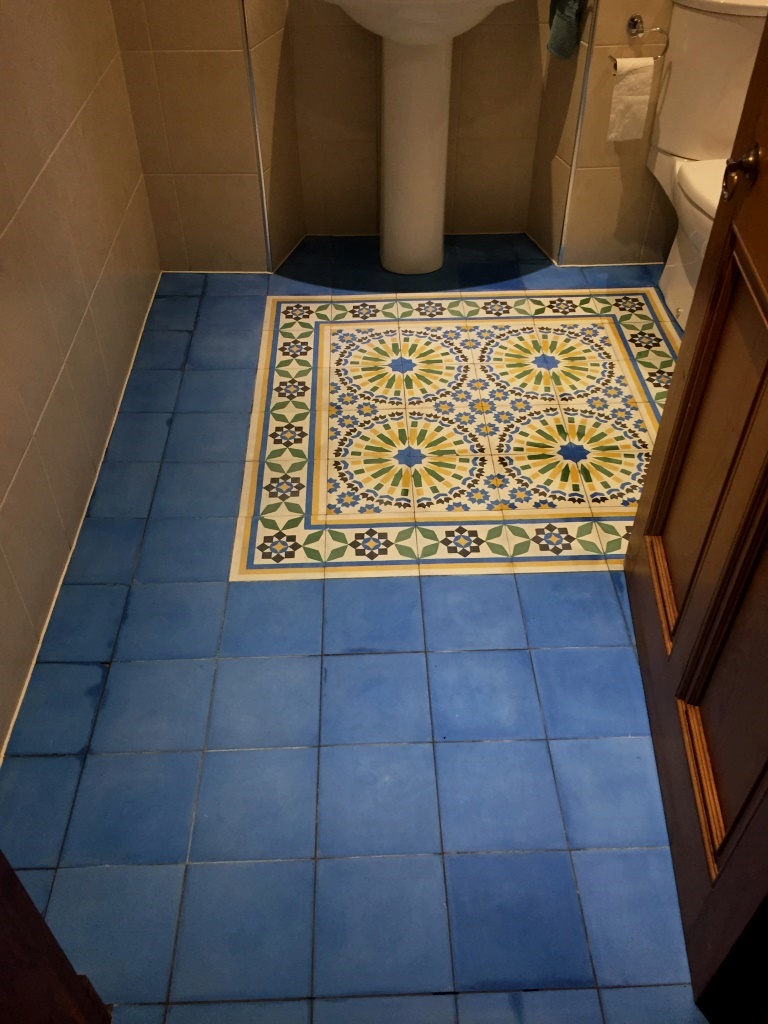 Cleaning a Victorian Floor
The tiles were looking rather dull and in need of a deep clean and re-seal so the first job was to clean the floor and remove and remaining sealer by applying a strong solution of Tile Doctor Pro-Clean worked in using a black scrubbing pad fitted to a rotary bonnet machine, with all the excess extracted using a wet vacuum. This process was repeated three times until I was satisfied any remaining sealer had been removed and the tile and grout was now as clean as it could be. The floor was then given a rinse with water and cleaned again with Tile Doctor Neutral Tile Cleaner to remove any trace of Pro-Clean; again the fluids were extracted using a wet vacuum.
Sealing a Victorian Floor Sealing
The floor was left to dry overnight and we came back the next day to seal it using six coats of Tile Doctor Seal and Go which works well on these types of tiles as it adds a nice subtle sheen as well as adding the necessary stain protection.