I was called out to renovate this Encaustic tiled hallway in the Cambridge suburb of Waterbeach. It's difficult to appreciate from the photographs but the floor was showing signs that the sealant had failed, and no amount of cleaning would get it too look as clean as it used to. Sealers prevent dirt from becoming ingrained into the pores of the tile which leads to a dulling of the overall appearance. My customer was keen to have the floor renovated and asked if I could give it a deep clean and seal.
Traditional Encaustic tiles resemble ceramic tiles but are in fact made from multiple layers of compressed cement and usually feature intricate geometric shapes and patterns which are hydraulically pressed into the surface. The process first appeared in medieval times and these tiles can often be found in very old buildings.
Modern production methods have seen a resurgence and you can now find these popular patterns reproduced with ceramic tiles. Ceramic tiles don't usually need sealing and are therefore very low maintenance. Encaustic tiles however being cement based do need sealing and when used as a floor tile you will need the sealer replacing every three to five years depending on wear. If you like the look of these tiles and live in the local area its worth giving Cambridge CTD Tiles a visit as their local showroom stock several similar styles in Ceramic.
Removing Old Sealers from Encaustic Cement Tiles
After protecting the skirting boards with tape, I set about getting the floor clean and free of what was left of the old sealer. Removing old sealers first is important as to apply new sealer on top of the old will result in different thicknesses and the floor looking patchy. To do this I applied a strong dilution of Tile Doctor Remove and Go which is a coatings remover and cleaner. It's sprayed onto the floor, left for ten minutes and then scrubbed in with a rotary machine fitted with a black scrubbing pad. The floor was then rinsed with water and the soil extracted.
To bring up the appearance of the encaustic tiles I polished the floor with an 800-grit and then 1500-grit diamond burnishing pads using a little water to help lubricate the process. I rinsed the floor with a little more water and extracted the fine slurry generated after each pad was applied. The floor looked much better already.
Sealing Encaustic Floor Tiles
I gave the stone a few hours to dry off and due to the warm conditions, I was able to apply two coats of Tile Doctor Colour Grow impregnating sealer on the same day. Each coat was left to dry off before applying the next. Tile Doctor Colour Grow is a colour intensifying impregnating sealer that provides durable protection by occupying the pores in the tile so dirt can't become ingrained there.
Before leaving I finished off the floor by removing any excess sealer residue with a 3000-grit polishing pad.
The client was very happy with the floor restoration once completed. I discussed with them the best aftercare and recommended they should use Tile Doctor Neutral Tile Cleaner which is pH neutral so will maintain the integrity of the newly applied seal and will ensure the floor is protected for some time to come. It is suitable for regular use, has a nice fresh fragrance and a small amount goes a long way.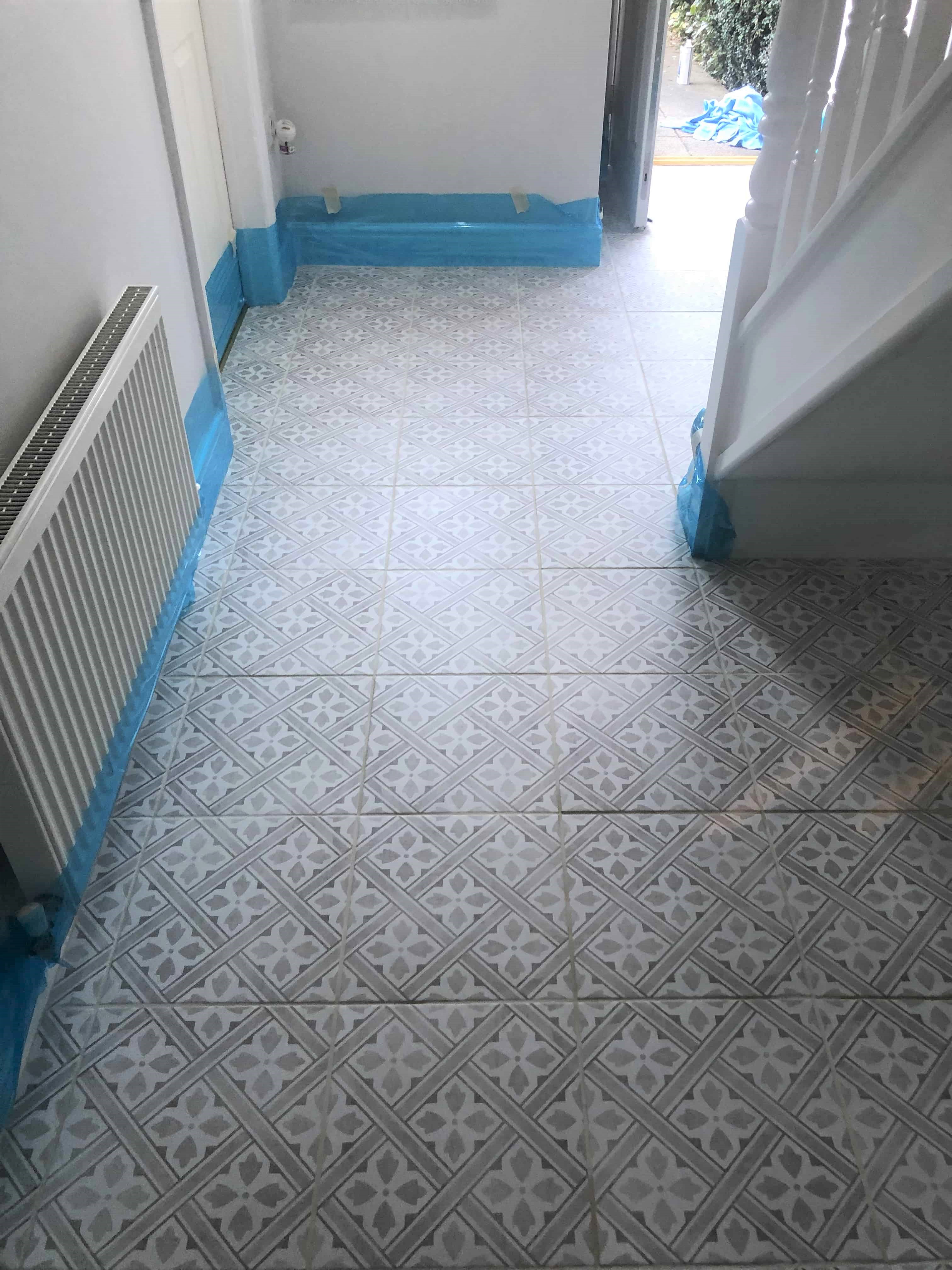 Source: Encaustic Tile Cleaning and Sealing Service in Waterbeach, Cambridge